Criminal theft charges of aggravated robbery or aggravated burglary are serious charges that should be handled by an experienced theft crimes attorney. Linda Malek has handled cases of this nature for over 13 years. Attorney Malek is familiar with the courts, their system, and the process.
Attorney Linda Malek is Experienced in Theft Crimes
As an experienced theft crimes attorney, Linda Malek has the knowledge and trial experience to handle the most serious aggravated robbery and aggravated burglaries charges. What makes an offense aggravated is committing a theft crime inside the dwelling of another, and while fleeing or attempting to flee, the offender inflicts physical harm on another. Many times an offender possesses a deadly weapon (a gun) and brandishes that weapon while committing the theft offense.
What are the Penalties for Aggravated Robbery?
The penalties for committing a first-degree aggravated robbery in Ohio could be a prison sentence of up to 10 years with a mandatory three-year gun specification which runs consecutively to the underlying prison term. These offenses are serious offenses and should be handled only by a serious robbery defense attorney who has experience with burglary cases.
The Law Office of Linda M. Malek, located in Akron, Ohio, provides years of experience in
burglary criminal defense and jury trial preparation in criminal matters involving robbery, burglaries, and breaking and entering. Don't hire just any criminal defense attorney, hire an attorney who has the experience and training to handle the serious offense of robbery and burglary criminal theft charges in these areas.
What Offenses Does Ohio consider to be Robbery and Burglary Crimes?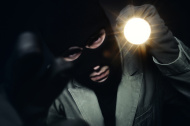 Attorney Malek utilizes her experience in theft crimes. She knows the law and is experienced to handle all matters under the Ohio Robbery and Burglary laws.
According to the Ohio Revised Code, an Ohio criminal statue, there are several degrees and charges that one could face when committing a theft offense while entering the dwelling of another. The following is a list of Ohio Robbery and Burglary criminal offenses:
1) Aggravated robbery
2) Robbery
3) Aggravated burglary
4) Burglary
5) Breaking and entering
6) Criminal trespass
7) Aggravated trespass
8) Criminal trespass on place of public amusement
9) Safecracking
10) Tampering with coin machines
If you have been charged with any of the above robbery or burglary crimes, don't wait, and contact Linda Malek today for a free consultation.
How can a Robbery, Burglary and Theft Crimes Lawyer Help me?
If you are facing criminal theft charges of robbery, burglary or breaking and entering, then it is imperative that you contact a theft crimes lawyer in the specified area where the crime was allegedly committed. It is important to understand your rights.
Attorney Malek's promise to you: "I will protect your rights during any criminal investigation. If a law enforcement officer is contacting you to investigate a crime, then I will contact that enforcement officer to find out what he is investigating, and prevent him from speaking to you about the matter. Remember, if you speak with a law enforcement officer, and you waive your Miranda Rights, then anything you say will be used against you in a criminal investigation and prosecution. If you are in doubt about your legal rights, then contact me, an aggressive and experienced attorney who will protect your rights." – Linda Malek
What are my Miranda Rights?
Miranda warnings are based on the United States Supreme Court Case, Miranda vs. Arizona. The United States Supreme Court ruled that before a law enforcement officer takes an individual into custody for a suspected crime, he/she must read him the following rights:
You have the right to remain silent and refuse to answer questions.
Anything you do say may be used against you in a court of law.
You have the right to consult an attorney before speaking to the police and to have an attorney present during questioning now or in the future.
If you cannot afford an attorney, one will be appointed for you before any questioning if you wish.
If you decide to answer questions now without an attorney present you will still have the right to stop answering at any time until you talk to an attorney.
Knowing and understanding your rights as I have explained them to you, are you willing to answer my questions without an attorney present?
If you are being arrested, and Miranda Rights are read to you, then you should always speak with an experienced criminal defense attorney who will explain what your rights are, and what rights you may be giving up. When faced with this situation, contact Attorney Malek, an experienced burglary and robbery defense attorney.
For a Free Consultation, Contact Theft Attorney Linda M. Malek at (330) 819-8018.
Remember, time is of the essence in all robbery and burglary crime charges and related investigations. Do not face your robbery and burglary crimes and criminal prosecution without knowing your rights, "protecting your rights is what I do". – Linda Malek
Linda Malek is licensed to practice in the State of Ohio and concentrates her criminal practice in the following counties: Summit, Portage, and Cuyahoga. She practices in the following municipal courts: Akron, Kent and Ravenna, Barberton, Stow, Cuyahoga Falls, Garfield Heights, Chagrin Falls, and Lakewood.